Take Action
The new Dáil was elected a few weeks ago and discussions are now underway which — hopefully — will lead to a Government being formed in the weeks to come. The Construction Defects Alliance is engaging with key spokespersons in the different parties and groupings to ensure that the next Programme for Government contains solid commitments to address the issue of apartment defects.
In this context, it would be really helpful if you emailed your new TDs now to thank them for their support to date and to ask them to ensure that the new Government acts to support the owners of apartments affected by defects.
What We've Already Achieved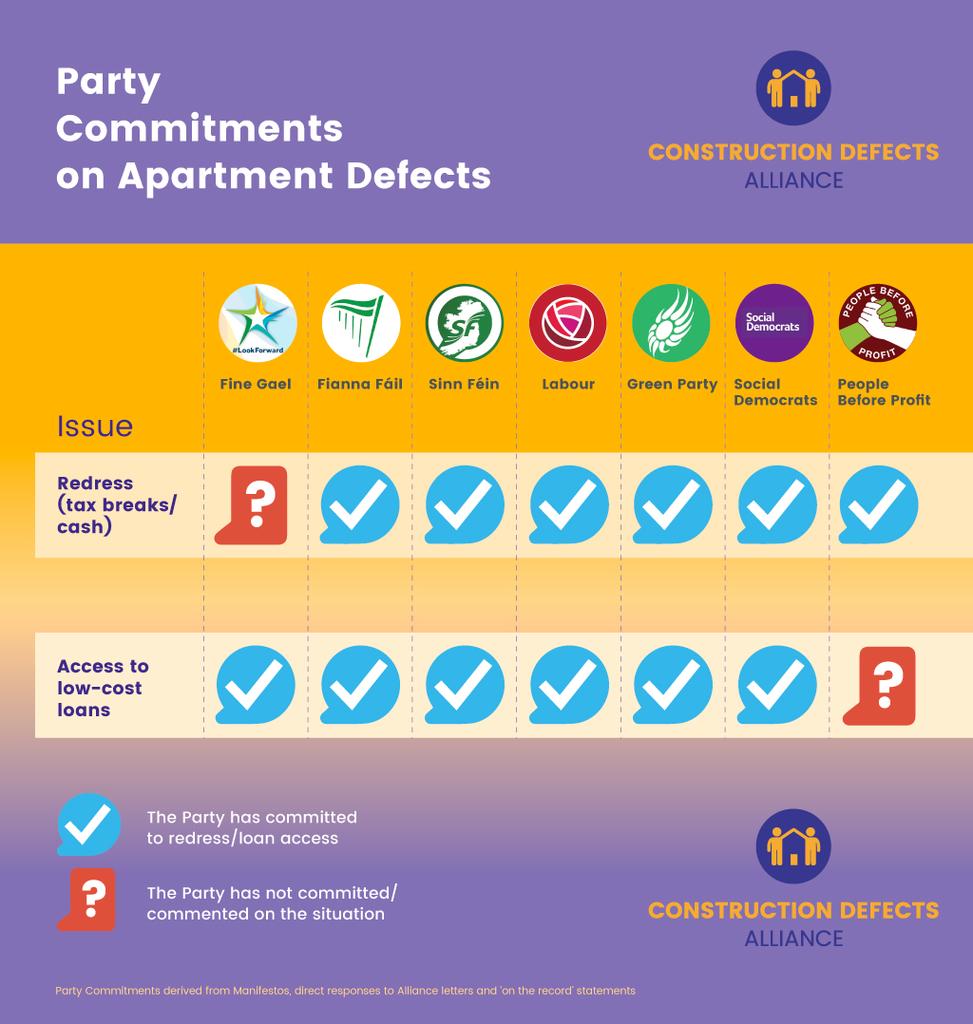 Your involvement in the campaign can make a real difference and it already has. Through your efforts and that of the Construction Defects Alliance most of the main political parties have made important commitments to support apartment owners in their manifestoes as follows:
Fianna Fáil
The remit of Home Building Finance Ireland (HBFI) should be expanded to encompass loan finance to Owner Management Companies who are undertaking remedial work on defective buildings. These owners who purchased in good faith deserve additional support. Furthermore, rogue builders should have no place in our construction sector.
We will:
Revise the remit of HBFI to expand funding to Owner Management Companies including clarity around access and conditions.
Place a bar on the awarding of publicly-funded construction project tenders to prevent such contracts from being awarded to developers/builders or associated professionals found to be in serious breach of building or fire safety regulation.
Put in place a €10 million latent defects scheme as an initial allocation to address legacy issues in certain developments.
Sinn Féin
Fully implement the 2017 Joint Oireachtas Committee on Housing, Planning and Local Government report, Safe As Houses?, including:
The creation of a Building Control Agency;
A reformed BCAR process;
Latent defects redress scheme for owners of Celtic Tiger properties with latent defects.
Immediately introduce mandatory fire safety inspections by local authorities of all new build multi-unit residential developments.
Fine Gael
We also know that there are significant defects in many developments with regard to the lack of sinking funds to complete non-routine maintenance programmes. We have improved building controls to ensure homes are built to the appropriate standards. We will work with homeowners, State agencies and financial institutions to help them to access long-term, low-cost finance.
Greens
Implement the recommendations of the Safe As Houses? report.
Enact our Homeowner Protection Bill to ensure that builders and developers have a duty to purchasers of residential property and to subsequent owners to build the dwelling properly.
Establish an independent building standards regulator, exempting defective homes from property tax and establishing a scheme of financial assistance, such as low-cost loan finance and tax relief, to assist with the cost of repairing defects.
Labour
Labour will introduce a package of measures to assist owners of apartments that were built deficiently, including low-cost loans.
Extra assistance will be given in cases where fire safety is inadequate.
People Before Profit
Reverse the scandal of self-certification of building works. Conduct immediate audits for fire and safety. Create a redress fund for the 90,000 apartments built during the Celtic Tiger era that have serious defects. Levy the construction industry for this fund.
Others
In addition to the parties mentioned above, the Social Democrats and various Independent TDs have also written to the Alliance committing to support the implementation of the Safe As Houses? report.